Dr Victoria Atkinson (Medical Oncologist)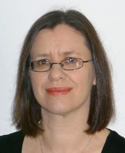 Name

Dr Victoria Georgina Atkinson

Qualifications

MBBS 1998

Occupation

Gender

Female

Medical Specialties
Dr. Atkinson's interests are in the field of Melanoma Oncology, and she has extensive experience in the newer targeted agent and immunotherapies. Dr. Atkinson participates as a Principal Investigator for trials in the adjuvant and metastatic setting at the Princess Alexandra Hospital and Greenslopes Private Hospital (in collaboration with Gallipoli Medical Research Foundation).
Dr. Atkinson is passionate about trying to improve outcome for all patients with advanced melanoma.
Dr. Atkinson's other tumour interest is in the field of gastro-intestinal malignancies.
Hospital Affiliations

Affiliated Clinics

Affiliated Organisations

Medical Conditions

Topics
Address

Greenslopes Private Hospital


Lobby Level
Newdegate Street
Greenslopes QLD 

4120

 
Australia


Phone

07 3394 7823

Fax

07 3394 7856