Dr Sunil Warrier (Ophthalmologist)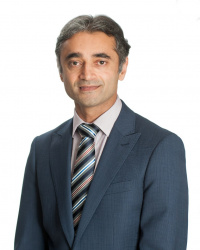 Name

Dr Sunil Kumar Warrier

Qualifications

FRANZCO 2013

Occupation

Gender

Male

Medical Specialties
Links

Phone

07 3488 0778

Fax

07 3488 0738
Dr Sunil Warrier offers Ophthalmological consultation and surgical practice with Redlands Eye Specialists at Mater Private Hospital Redland. Dr Warrier attended medical school at Flinders University in South Australia, and completed a Masters of Medicine at the University of Sydney.
After completing his specialist ophthalmology training in Brisbane, he travelled to the United Kingdom for further sub specialty fellowship training including ocular oncology, medical retina and glaucoma.Dr Warrier will perform private work at Mater Private Hospital Springfield.
Dr Warrier can provide the following specialty services:
Routine and complex cataract surgery Pterygium surgery including autoconjunctival grafting Assessment and medical, laser and surgical treatment of glaucoma Diagnosis and treatment of macular degeneration, diabetic retinopathy and vascular abnormalities of the retina Surgical management of eyelid abnormalities including ectropion and entropion.
Hospital Affiliations

Affiliated Clinics
Address

Phone

07 3488 0778

Fax

07 3488 0738
Address

Phone

07 3831 0101

Fax

07 3831 3203
Address

Phone

07 3899 2965

Fax

07 3319 6275