Dr Samuel Chia (Orthopaedic Surgeon)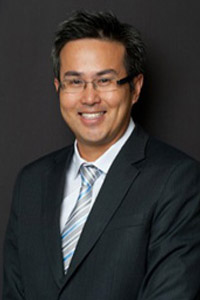 Links

Phone

1800 553 335
Email
Dr Chia is a fellowship trained orthopaedic surgeon with a particular interest in reconstructive surgery of the hip and knee.
Dr Chia completed his medical degree at the University Of Sydney in 1999 and was awarded the Sidney B Clipsham Memorial Prize in Operative Surgery. He completed his residency at The Prince Of Wales Hospital and was then selected onto the Sydney Southside Training Scheme of the Australian Orthopaedic Association. He gained his fellowship of the Royal Australasian College of Surgeons (FRACS) in 2008 and then completed three postgraduate fellowships in hip and knee reconstruction. These were administered by Arthritis Australia, Royal Prince Alfred Hospital and Peninsula Orthopaedic Research Institute (PORI). Dr Chia is committed to maintaining his knowledge at the highest levels and is certified to perform robotic hip and knee surgery.
Dr Chia also has a keen interest in research, with multiple publications in major orthopaedic journals and is a current director of PORI. He also enjoys participating in medical education and has an appointment as a Clinical Lecturer at the University of Sydney. Dr Chia is also the intern supervisor at Mona Vale Hospital and is heavily involved in registrar teaching at various levels.
Dr Chia is able to provide a service to all residents of the Northern Beaches through participation in the on-call roster and elective lists at Mona Vale Hospital as well as appointments to various private hospitals in the area.
Hospital Affiliations

Affiliated Clinics

Affiliated Organisations

Topics