Dr Graham Sivyer (GP)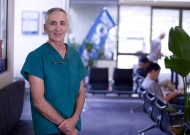 Name

Dr Graham William Sivyer

Qualifications

Occupation

Gender

Male

Medical Specialties
Dr Sivyer joined Mermaid Beach Medical Centre in 2008 and has practiced full time in skin cancer medicine and surgery.
During this period he has passed the necessary requirements to be admitted to the Skin Cancer College of Australasia as a Fellow. Dr Sivyer holds the academic title of 'Lecturer, School of Medicine, University of Queensland'.
Dr Sivyer has been an examiner and lecturer of the College and has had a number of research papers published in the international journal 'Dermatology, Practical and Conceptual'.
He is committed to the best practice of skin cancer medicine and surgery for his patients, and continues to be involved in research.
Affiliated Clinics

Affiliated Organisations
Address

Phone

07 5557 7888

Fax

07 5557 7800